Located in the Melvindale Civic Arena, the Senior Community Center is open from 9:00 A.M. to 3:00 P.M. Monday thru Thursday. The Center serves as a social club for those 50 and older. Special events include birthday parties and shopping expeditions. A number of daily activities are planned and a monthly calendar is available at the Center. Commodities are distributed each month at the Center.
Please Note: This information is based on regular times, with COVID we are on a very restricted schedule.
The Senior Alliance
The Senior Alliance (TSA) is dedicated to enhancing and preserving the independence of older adults and individuals with disabilities, as well as providing support to caregivers.
Please click here for further information (PDF)
Click Here for Information on Emergency Food Distribution for Seniors, Friday, June 5, 2020 (10 a.m. to 1 p.m.)
Click Here for Information on the Friendly Reassurance Program for Homebound Seniors.
Senior Lunch Program
A hot lunch nutrition program is offered to all seniors over 60 years of age. the lunch program is part of the Title III Federal Nutrition Program. The lunch is served at 11:30 A.M., weekdays. There is a cost of $2.25 (suggested donation) per person and reservations must be made 24 hours in advance. For more information, please call 313.908.4328
Meals on Wheels
Hot meals are offered through Wayne County at a cost of $3.00. No on-site eating is allowed until future notice from Wayne County. For information, contact the Wayne County Office of Nutrition at 1-800-851-1454 or the Melvindale Senior Community Center 313.908.4328.
The Meals on Wheels program is in need of volunteer drivers to deliver Monday-Friday. The route takes less than 1 hour to complete, and mileage reimbursement is available. If you would like to volunteer call at 313.908.4328.
Transportation Program
Rides are provided by a SMART connector bus and 2-SMART Vans (minimal charge). All vehicles are handicap accessible. If you are unable to drive, transportation is available Monday thru Thursday 9:30 AM – 2:30 PM. Appointments must be within a 5 mile radius of the Senior Center. Please allow 2 day notice.
Cost: Members pay $1.00 round trip | Non-Members pay $5.00 round trip
Senior Center Membership
For seniors 50 years of age and older. $15 Membership benefits includes: monthly calendars; preferred seating on trips, discounts on trips; discounted rides for non-drivers to scheduled appointments and other trips, e.g. to the bank.
Regularly Scheduled Activities
We offer a wide variety of activities throughout the year: Exercise class, Blood Pressure, Dinning Out, Movie Outings, Day Trips, Guest Speakers, Shopping, Bingo, Social Parties, Birthday Club, Crafts
Mystery Trips
Trips are a surprise! We can't tell you where you're going in advance, but it's sure to be a hoot when you get there.
Senior Stretch & Tone
No-impact chair adaptable exercise classes. Mondays, Wednesdays, Fridays, 10:00-11:00 AM. $10/Month, participants pay instructor directly.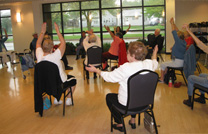 Wii Bowling
Friends meet at the Senior Center once a month to play this new and exciting game system. Tournaments are held monthly and prizes are awarded for 1st & 2nd place! Not sure how to play? Come on down! We have many experienced players that are willing to teach you!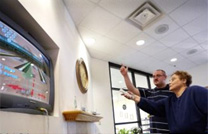 Birthday Club
This group meets on the 3rd Wednesday of every month to celebrate birthdays for that particular month. Birthday Cake and Refreshments are served. $1 per person.