CRIME MAPPING WEBSITE
The Melvindale Police Department is now part of a website called crime mapping.  This website interacts with our Clemis computer report writing system.  When a crime is reported to the Police Department, an icon will appear on the City of Melvindale map indicating the location, type of crime with the date and time it occurred.  This website will give updated information informing citizens of what types of crimes are occurring in the City of Melvindale.  The Police Department encourages residents to sign up on this website to monitor what is happening in your neighborhoods.
The website has many options, including setting up alerts to notify residents when a crime is reported in their neighborhood.  Use the link below to open the app, sign up and explore its benefits.
Message from the Chief
"It is always the goal of the Melvindale Police Department to provide professional service to all of our citizens and visitors. Please feel free to contact my office with any concerns that you may have."
Interim Police Chief Dan Jones | 313.429.1070 prompt 3
[email protected]
Melvindale Police Station
The Melvindale Police Department uses Dearborn Dispatch for all emergency and non-emergency calls. The Melvindale Police Station is open to the public M-F from 8:30 AM to 4:30 PM (closed from 12:00 PM to 1:00 PM). There is a call box located outside of the front entrance, which can be used to contact dispatch after hours.
Citizens are encouraged to contact the police department if they observe any suspicious activity in the City. If it is of an emergency nature please call 911. Otherwise call 313-429-1070.
The Melvindale Police Department is made up of several divisions and specialized units.
Administrative includes the Police Chief, Patrol Lieutenant and Detective Lieutenant. It is the responsibility of the administration to oversee and make sure that the department is running effectively.
Road Patrol Is comprised of three shifts with a sergeant and patrolmen on each shift. The road patrol's primary function is to respond to calls for service from our residents. The patrol officer that responds to a call takes the appropriate action that they feel necessary and afterwards fills out a report. Other functions of the road patrol are traffic enforcement, patrolling the streets, checking businesses, and looking for any type of suspicious activity that may indicate criminal activity.
Detective Bureau Is staffed by a lieutenant and two patrol officers that are assigned there. The primary function of the detective bureau is to investigate cases that the patrol officers report on or complaints that come directly to them. Citizens should contact the detective bureau after they have made a complaint if they wish to follow up on a complaint they have made. Please call the detective bureau to set up an appointment.
The Motor Carrier officer enforces traffic and vehicle weights laws pertaining to large semi trucks and commercial vehicles.
The Ordinance officer handles all animal and ordinance calls. If a citizen thinks there may be an ordinance violation they are encouraged to contact the police desk. The ordinance officer will then check the complaint to see if there is a violation of any local ordinances.
The K-9 officer and his partner Spence work together in their normal routine as a patrol officer. They train once a week with other K-9 officers and work closely with our narcotics officer in an attempt to rid the city of dangerous drugs.
The Melvindale Police Department has a Certified Emergency Response Team (CERT) group of trained and dedicated volunteers that assist the police department in various ways throughout the year. Some of their functions are to assist the police at Melvindale Days, the homecoming parade and other events or functions as the need arises. The CERT Members go through mandatory training before becoming a CERT Member. If interested please e-mail the Melvindale Police Department at [email protected]
If there is a snow emergency declared Citizens are required to move their cars off of the street. A snow emergency is declared when there is a potential for 4 or more inches of snow. Once the streets are plowed residents can park their cars back on the streets. If a car is not moved off of the street during a snow emergency it is subject to being towed.
National Law Enforcement Officers Memorial
"The wicked flee when no man pursueth: but the righteous are as bold as a lion." – Proverbs 28:1
This webpage is dedicated to all the former and current Melvindale Police Officers that have served the City of Melvindale and especially to Sgt. Cashel Furgerson who gave his life while directing traffic at the scene of an accident on January, 3rd, 1955, and Detective Sgt. James Spence who died while on duty on March 17th, 1985.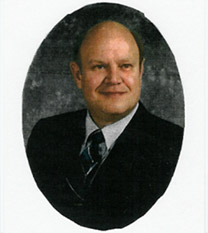 Detective Sgt. James Spence